Cleaners
FLUX-OFF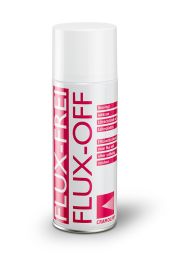 Efficiently removes Rosin Flux and other Soldering Residues from Printed Circuit Boards.
FLUX-OFF is a mild, but effective cleaner that readily removes the most toughest deposits of flux, soldering oils, and other contaminants such as grease, dirt and moulding compounds. FLUX-OFF is colourless and leaves no deposits. lt does not attack any material in common use. However, avoid using it on PVC and polystyrene.
Also available with a brush.
Appearance
clear, colorless liquid
Odor
characteristic, mild
Density at 25° C
0,84 g/cm³
Surface tension
22 mOhm
Evaporation
average
Material compatibility
good
Plastic compatibility
PE, PP good
PC limited
PS, PVC incompatible
Unit Sizes
400 ml
Units/Carton
12 Spray cans (400 ml)
Art.-Nr.
1071611 (400 ml)

Safety Data Sheet

(2.9 MiB)

Technical Data Sheet

(44.1 KiB)